Destination Weddings: Pros, Cons, & Cost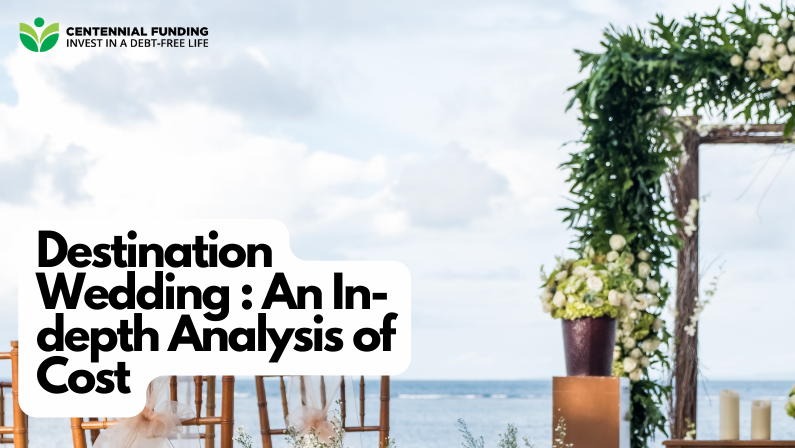 Destination weddings have gained popularity for couples seeking a unique and memorable way to tie the knot. While they offer an unforgettable experience, it's essential to understand the costs and weigh the pros and cons before embarking on this romantic journey. In this blog, we'll explore just how much a destination wedding can cost, discuss the advantages and disadvantages, and provide a detailed breakdown of the expenses involved.
The Pros of a Destination Wedding
Exotic Location: Destination weddings allow you to exchange vows in stunning, picturesque settings like tropical beaches, charming European cities, or romantic vineyards, creating a magical atmosphere for your special day.
Intimate Atmosphere: Smaller guest lists are common for destination weddings, which can result in a more intimate celebration with only close friends and family.
Built-in Honeymoon: You can seamlessly transition from your wedding to your honeymoon, often in the same beautiful destination.
Memorable Experience: A destination wedding is a unique and unforgettable experience that both you and your guests will cherish.
The Cons of a Destination Wedding
Cost: Destination weddings can be significantly more expensive than local weddings. Not only do you need to budget for the ceremony and reception, but you must also factor in travel and accommodation costs for yourselves and your guests.
Logistics: Planning a wedding from afar can be challenging. You may need to rely on local wedding coordinators, which can add an extra layer of complexity.
Guest Attendance: Some guests may not be able to attend due to travel expenses or scheduling conflicts.
Legal Requirements: Destination weddings often require navigating foreign legalities, including paperwork and waiting periods.
Breaking Down the Costs
Breaking down the costs of a destination wedding involves a comprehensive analysis of the various expenses associated with planning and hosting such an event. Here's a breakdown of the typical costs you might encounter when organizing a destination wedding:
Travel Expenses:

Bride and Groom: Includes airfare, accommodations, and transportation at the destination.
Guests: Travel costs for invited friends and family, including flights, hotel stays, and ground transportation.

Venue Costs:

Ceremony Venue: Rental fees for the wedding ceremony location, which could be a beach, garden, resort, or other scenic spot.
Reception Venue: Costs associated with the venue where the post-ceremony celebration will take place.

Catering and Bar Services:

Food: Expenses for the wedding menu, which can vary depending on the number of guests and menu choices.
Beverage: Costs of drinks, both alcoholic and non-alcoholic, which may be offered as part of a package or on a per-drink basis.

Decor and Flowers:

Decorations: Expenses for items such as table settings, linens, chairs, lighting, and other decorative elements.
Floral Arrangements: Costs of bouquets, centerpieces, and other floral decorations.

Wedding Planner/Coordinator:

Fees for the services of a local wedding planner or coordinator who can assist with logistics, vendor coordination, and other on-site arrangements.

Legal Fees:

Marriage License: Charges associated with obtaining a marriage license in the destination, which can include application fees and processing costs.
Translation Services: If required, costs for translating legal documents.

Guest Transportation:

Transportation within the destination for guests, such as shuttle services from the hotel to the ceremony and reception venues.

Accommodation:

Accommodation for guests, not included in their travel expenses, at the wedding destination. You may choose to cover some of these costs for your guests.

Entertainment:

Costs for live music, a DJ, or any other form of entertainment at the wedding, including sound equipment and performers.

Photography and Videography:

Fees for professional photographers and videographers to capture your special day.

Honeymoon:

Costs associated with the post-wedding celebration or extended stay at the destination.

Miscellaneous Expenses:

Additional costs may arise, such as permits, taxes, or unexpected expenses.
Conclusion
Destination weddings offer a magical and unique experience, but they come with a price tag. Couples need to carefully consider their budget, their guest list, and their willingness to navigate the logistics of planning a wedding in a distant locale. If you're prepared to invest time, money, and effort into the experience, a destination wedding can provide memories that last a lifetime. However, if you prioritize cost-efficiency and ease of planning, a local wedding might be the better choice for you. Ultimately, the decision should reflect your priorities, preferences, and financial situation.
See how Centennial Funding can help with your financial future.